I arrived back in Cambridge Bay on August 7th, flying in from Yellowknife on a cargo plane fitted out to carry about 16 passengers as well as supplies for the town. "Philos" had been launched a few days earlier with the help of a large bulldozer. Nothing is done gently up here! Within a couple of days we were happy with the ice charts and ready to leave. With Roger and I this year was Marcus, a friend of Roger's from Germany. "Philos" seemed to have survived the deep freeze of winter, at times reaching 55 degrees below zero, relatively unscathed, although we were soon to have issues.
First stage was back across Queen Maud Gulf, the tricky 300 mile stretch of water between Victoria Is and King William Is, which is full of nasty pinnacles rising up from the bottom. There is a safe route which has been sounded but you dare not stray from this route and of course that is difficult when you need to weave around large sections of pack ice. This was my third time across Queen Maud after traversing it twice last year. After about 50 hours we were across it and entering Simpson Strait just on sunset, about 11 pm. This strait, which separates King William Is from the mainland, was the discovery which enabled Amundsen to finally crack the Northwest Passage in 1906, but it is shallow and full of ever-moving shoals. We slowly felt our way through, plotting our position on paper charts every 15 minutes. The plotter is not to be entirely trusted in these latitudes.
The next day we entered the little harbour of Gjoa Haven where we had weathered a storm for 10 days last year and finally decided to quit for the season and go back to Cambridge Bay. This time we were luckier with the weather and, after refueling, we were off into new waters heading north. Within hours the fog and rain descended and with little visibility we went through Rae Strait, past Matty Island and on up the desolate coast of the Boothia Peninsula until we hit solid pack ice the next day. By now the wind had picked up but was thankfully pushing the ice offshore. We found there was a narrow lead of clear water close in to the shore and we were able to follow it all the way north to the Tasmania Islands in Franklin Strait. Had the wind simply been from the west rather than the east, we would've been stuck behind the ice pack more than 100 miles further south, possibly for the rest of the season. But so far our luck held, unlike so many of the early explorers, caught for months and sometimes years in this relentless, unforgiving world of ever moving ice.
Here at Tasmania Islands we decided to take a short cut between two of the islands and very narrowly missed an uncharted rock. As we emerged into Peel Sound the ice was thick and chaotic with strong currents bouncing small bergs through pack ice. This was to be the first of many bands of ice with no available detour that we had to find a way through over the next several days. It was night-time but the light stayed like twilight all night. Still, it was hard to find a way through to clear water and we weaved for hours, finally bulldozing our way through the final 50m of the ice band and into an open stretch which took us all the way up to Bellot Strait, a 20 mile channel barely half a mile wide which separates mainland Canada from Somerset Island.
This is a great shortcut but usually packed with ice and notorious for its 8 knot currents which can push the ice down on top of you if you miss the tide timing. We arrived at it's entrance at 5 am and, after a quick calculation, decided to make a dash. After getting through an initial ice plug we had a good run, passing Zenith Point, the northern most point of land on the American continent. As we got to the other end the tide was beginning to move fast with waves building against the ice. We slipped past the worst of it and around the corner into Fort Ross, a sheltered bay with an old Hudson Bay Company trading post depot. We dropped anchor here amongst several bergs and had a sleep. While we rested a 5m high berg drifted past us scraping our side giving us a hell of a fright. I raced on deck just in time to see it topple over just a few metres behind us and split in two with a loud bang, each piece racing off in opposite directions, thankfully missing us! We made sure there were no more bergs upwind of us before going ashore for a good look at this remote outpost.
There are two buildings from the 1930's, one was the residence and the other was the trading depot. We found the house open to the weather but well preserved in the extreme climate. We carried a gun, well aware of the possibility of polar bears and indeed 10 feet high on the walls of each room were the telltale deep claw marks of a curious bear! The house still had ornate timber joinery, old arm-chairs and a pot-belly stove with 2 tin mugs on top. We also explored the depot itself which has been maintained as a safe haven for Inuit hunters, researchers and small boat travellers such as ourselves. After removing the heavy timber bear proof slabs barring the doorway we found a wonderful room full of survival rations and equipment, stove, memorabilia and the stories of numerous adventurers scribbled on it's walls dating back to the 1970's when the building was restored. We didn't add to the graffiti but we did sign the visitors book and left the everything as we found it.
After climbing a hill to get a view of the conditions in Prince Regent Inlet we hauled anchor and set sail north again into a sloppy sea. That night brought several bands of ice to traverse, always foretold by the calming of the water and the faint fluorescent glow in the dark. We somehow always managed to make a path through to clear water but it was never far to the next obstacle. By early morning we were again in choppy conditions and ocean swell, indicating no more ice for awhile, but then Roger came on deck to tell me there was a blow coming our way and it was only a few hours away. It was also going to be right on our nose. We searched the charts for potential shelter but this area of Somerset Island has virtually no shelter and it was 35 miles away anyway. We decided to head for Fury Point, a big right angle turn in the coast, and hope that we could somehow get in the lee of what looked on the map like a headland.
Right on schedule we suddenly had 40 knots on the nose and motored into the steepening seas as we aimed for that point. As we drew closer we could see that the low, barren hill wasn't going to offer much comfort from the offshore wind but it was all we had so we gingerly went closer to look for calmer seas. About a mile offshore we scrapped the rocky bottom and retreated. We moved along the coast closer to the point and tried again but the bottom shelved up steeply so we dropped the anchor anyway, let out 70m of chain and waited for it to bite. We could feel it dragging across the rocky bottom as we were blown further out but finally it snagged. There was still 40 knots over the deck but the seas were down to a metre. Half an hour later we dragged the anchor and were just about to haul it up when it snagged again, this time in deeper and less calm water. We sat here staring at this barren landscape for 30 hours while the freezing wind howled, listening anxiously to the anchor chain but it held tight. One lone musk ox walked past us on the beach in the distance and it looked like the loneliest creature on earth!
We hauled anchor at sunset the next day with scattered ice drifting past and a cold 20 knot easterly still blowing, along with freezing rain. Despite the conditions I was glad to be on the move again. We set a NW course diagonally across Prince Regent Inlet trying to make Lancaster Sound but the wind direction pushed us further south so instead we decided to make for Port Bowen, named by William Parry when he was forced to winter here in 1824. The next morning we were close to the eastern shore of Prince Regent and the landscape had become even more spectacular, with huge rock precipices rising steeply from the ocean, towering maybe 1500 feet above us. We cruised about a mile into what we believed was Port Bowen, looking for the small cove where Parry careened the "Fury", before we realized we were actually 6 miles north in Jackson Inlet! Navigation is often difficult this far north with the GPS less than accurate and the compass often doing circle work!
We decided to continue tacking north along the Brodeur Peninsula while conditions allowed, gradually feeling the increasing influence of Lancaster Sound – more swell and current. As we began to slowly round the northerly 'tongue' of the peninsula, the coast became utterly stunning and majestic. 2000 foot cliffs of every shape rising from the deep waters, like sentinel warriors standing guard over the gates to the Northwest Passage! I couldn't take it all in and as a breathtaking sunset cast it's orange/purple glow over these behemoths, a huge iceberg appeared ahead, the first 'serious' berg we had encountered. We passed it in the dying glow on my ten till midnight watch, smooth and sculptured on one side, jagged and smashed on the other, reflecting all the colours of its surroundings. I glanced at the plotter and realized that at that moment we were at our northerly most point, just 7 miles short of 74 degrees north. Alone in that cockpit with that vista, and the knowledge of where I was on the globe, was an intense experience and one I will never forget.
This part of the coast is remote and inhospitable. Should the weather get nasty, there is literally nowhere to hide. No inlets, no headlands, just steep cliffs and ice. Thankfully the weather held and by the next morning we were abeam of Admiralty Inlet with glassy conditions and Borden Peninsula ahead. Huge icebergs were now becoming familiar sights, sometimes visible for 30 miles. Across Lancaster Sound we could occasionally catch glimpses of the mountains on Devon Island, such a barren, cold, dry place that NASA has a base there due to it's similarity to Mars.
We continued across the top of Borden Peninsula, occasionally passing a massive berg, always wondering how it got that weird and intricate shape, until we got to the entrance to Navy Board Inlet, a long passage, several miles wide which separates Borden Peninsula from the spectacular and mountainous Bylot Island. This passage would lead us to Pond Inlet, a small Inuit settlement which marked the end of the Northwest Passage and a chance to fill our nearly empty fuel tanks. But first there were hurdles to jump. As we came up to the entrance to the inlet the sounder suddenly showed rapidly shallowing depth and soon we were creeping along at idle waiting for that awlful sound of hitting ground. This was not on the charts of course. Eventually the bottom shelved off again and we continued into the inlet.
Ahead in the late afternoon sun, glowed an amazing looking berg, resembling a ship and hard aground in 150m of water. We took a turn around this piece of nature's art before heading across the inlet towards Tay Bay on Bylot Island, a glacial inlet where we planned to anchor for a proper sleep, the first in days. Nature had other ideas and as we approached the entrance to the bay, early in the evening, the wind suddenly turned easterly, blowing straight into our intended anchorage and increasing rapidly to a gale. We retreated back out into the deeper water of the inlet to assess our options. As I kept "Philos" head to wind and the tops of the waves were starting to blow away, Roger and Marcus began quite a frantic search for relevant paper charts to allow us to find an optional anchorage. Not as easy as it sounds because although Roger's supply of Arctic charts was comprehensive, the required chart was buried amongst beautifully rolled up and waterproofed bundles, each about a foot in diameter with hundreds of charts, and buried deep under a ton of spare parts under the aft quarter berths. We had intended to dig these out while sipping a wine at anchor, not running before a gale into darkness in unknown waters. At one stage I got into the lee of a big berg to ease the wave action on the boat but Roger came on deck and told me it wasn't a good idea so we eased off, reduced sail further, and started running down the inlet. At least the gale was behind us.
Despite the conditions, the landscape was spectacular in the setting sun and I now had a chance to view my surroundings while visually searching for some shelter. The western shore of the inlet, about 3 miles away, was an avenue of huge glaciers coming down to the water, while the shore of Bylot Island right next to us was a series of red/orange rock pyramids with ice capped peaks behind them. I had a feeling I wanted to some day come back here, certain that a short walk amongst this alien landscape would reveal mammoth tusks protruding from the hillsides. We finally found the right chart which revealed that we had little option but to continue down the inlet for 50 miles, around 10 hours in these conditions, to Ragged Island where a safe anchorage was available.
After dark the gale continued from behind and with reefed schooner and headsails we were averaging 7.5 knots against the tide. Visibility was deceiving and my watch was spent concentrating on not broaching. I was tired and kept "seeing" bergs which, for the most part, was white water, but occasionally the familiar flouro white glow would indicate ice ahead, but how far? What size? Fatigue and darkness played tricks on my eyes and I often wished we had enough crew for 2 pairs of eyes on watch. This would become essential at times during our trip south once we were out of the Northwest Passage, but for now we relied on our own eyes. When Marcus came up for his watch around midnight we turned back into the wind momentarily and dropped sails to continue under motor but still averaged 6.5 knots. It was a relief to put my head down for a few hours.
Ragged Is appeared on the horizon in the early light of dawn and we skirted around into it's lee. The NW wind was still strong as we motored slowly into a bay looking for good holding for the anchor. The sounder was showing a scary bottom with lots of jagged peaks shooting towards the surface, another reminder that the charts are partly guesswork. We could see an Inuit summer camp on the shore and we finally dropped anchor about 300m off the beach around 7am. After a few hours sleep, Roger & Marcus went ashore. The Inuit campers were mine workers having a break from the iron ore mine further up the inlet. We were some 35 miles west of Pond Inlet and decided to leave before dark to arrive in the morning. The weather was due to abate but the wind had swung around to the northeast, on the nose, and we had a bumpy night slogging into a heavy chop at barely 4 knots.
We reached Pond Inlet at around 9 am, a pretty little town, built on the side of a small hill with a pebble beach, overlooking the majestic mountains and glaciers of Bylot Is, about 5 mile across the inlet. We anchored precariously on a stony bottom about 200m off the beach and went ashore to organize a fuel truck to come down to the beach. Then began the onerous task of relaying a dozen 20 lt fuel cans back and forth from the beach until we'd filled the 1000 lt tank, enough for 1000 miles under motor and we had over 2000 miles before the next available fuel. Lets hope for some wind.
Our timing to get to Pond Inlet luckily coincided with the imminent arrival of Rogs' partner Flo, on the luxury pocket cruise ship "le Soliel" which was stopping at the small Inuit settlement for just a few hours. We expected it's arrival some time that day. We found a supermarket and got some essentials plus some really weird tasting fried chicken, then found a spot to sit for a moment and savour the view while we gorged on deep fried something. There were several big bergs offshore and three big glaciers coming down to the water across the strait on Bylot Is. While we were sitting there, we spotted Flo's ship in the distance, steaming towards us. We quickly downed our lunch and raced back to our dinghy.
Looking like a scaled down version of the huge cruise liners, "le Soliel" takes around 250 passengers on arctic adventures in absolute luxury. Flo was one of the onboard expedition leaders and takes groups ashore in RIBS and shepherds them within orange cone defined areas on the beach before leading small parties on explorations and learning experiences. At night, back onboard, Flo gives presentations in several languages about all sorts of things, she is a very experienced adventurer in her own right. But today she had some time off to spend with Rog, and the minute the ship dropped anchor a few hundred metres from us, Flo called on the VHF and was soon in a RIB on her way over to us.
Soon she was climbing over our rail clutching 2 big bags of goodies. There was beer, wine, jam, cake, olive oil and toiletries, plus a card for Rog signed by a lots of people on the ship. Apparently Rog is a bit of a celebrity, especially amongst the crew, and everyone was very excited for Flo to be seeing him, albeit briefly, in this far flung corner of the planet, after months apart. I was excited too, it was quite a while since I'd had a beer!
After a few hours Flo's ship had to leave and a group of officers, keen to meet Rog, came across in a RIB to collect her and soon we were watching them haul anchor, followed by a sail-past with horns blaring before they did a tight U turn and headed back to sea, everyone waving at us from their balconies. It was a special moment, especially as we had tried and failed last year to meet with Flo in Cambridge Bay but her ship was stuck in ice hundreds of miles from us.
We watched in silence as "le Soliel" weaved between a couple of huge bergs and disappeared back to the east towards open water. Her sojourn into the NW passage barely 25 miles.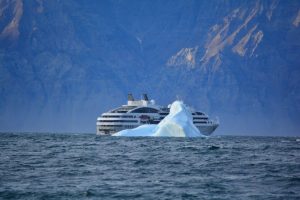 The wind was getting up and it was getting late so we decided to stay on the anchor for a decent sleep before beginning the long slog south to Newfoundland, over 2000 nautical miles and an estimated 2 weeks away, plus a lot of ice! Next morning we prepared the boat once again for sea, and received a rubber ducky visit from 2 young couples on the 47' yacht "Hawk" which had just arrived from Greenland attempting an east-west transit of the passage. They were keen to hear how the conditions had been for us and what lay ahead for them.
We wished them fair winds and hauled the anchor before heading east down another stunning avenue of glaciers, reaching Baffin Bay and open sea just on dark. This signalled the end of the Northwest Passage, and we savoured the moment. Our ice charts from a week earlier had indicated a massive semi-circle of ice covering the coast of Baffin Island and stretching three quarters of the way to Greenland, so our plan was to travel due east until we thought we could clear this barrier, then turn south. As we moved away from the coast, the wind dropped and the view back along the Baffin coast was surreal – huge snow capped mountains with dozens of massive glaciers. The spectacular sunset lit up the scene in fiery red with a thin line of deep pink cloud suspended just above the water. As the sunset lengthened, the sky turned into a mosaic of colour like I've never seen, reflecting off several large icebergs in the distance. My late evening watch was in thick fog with only the radar to warn me of bergs. I was sure this was a sign of what was to come.
For the next 3 days we headed due east with very little wind and lots of fog making everything damp and cold. The temp was hovering just above freezing. Keeping a lookout in these conditions was tiring, especially while hand steering, and invisible bergs slipped past us in the fog and dark. We had attempted to fix the auto-pilot on several occasions since leaving but Rog now put in a concerted effort for many hours, pulling it completely apart on the saloon table and reassembling it. Finally we had our pilot back! A huge relief because being on watch alone really meant having to go on deck often to peer into the gloom looking for the tell-tale faint glow of approaching ice. The radar would only pick up the big bergs and only some of them. The jagged shapes could reflect the radar waves off in different directions making them invisible, and of course the low pack ice didn't show up at all.
At about the halfway point across Davis Strait, we turned south in the hope that we had cleared the main ice sheet. Soon we spotted the familiar white line on the horizon, stretching as far as we could see in either direction across our bow. We had no choice but to turn east again and follow the ice edge until it turned south. We zig-zagged this way for days, keeping our distance from the ice shelf at night, gradually moving further south. Our slowly decreasing latitude, coupled with the march of time, meant that the hours of darkness were rapidly increasing, making it much tougher to safely navigate.
We had now completely lost contact with the outside world because we couldn't get a signal with the satellite phone. We relied on this for regular email downloads, ice charts and, of course, emergencies. The sense of utter isolation was palpable. We were still skirting the main ice shelf trying hard to move south, aware of our fuel limitations, and it wasn't long before the motor started surging which signaled the end of half our fuel. We were now 500 miles from Pond Inlet with around 1500 miles to go. After changing tanks, bleeding and servicing the motor, we at last started getting some decent breeze, thankfully from the NE, our stern quarter. Once we had full sails flying we picked up boat speed to 6.5 knots and shut down the motor. On we went, dodging big bergs and weaving between large patches of brash ice, and keeping a close eye on the edge of the shelf. Our course alternated between south, south-east and east, and it seemed this ice shelf was never-ending. We were now much closer to Greenland than Canada. One night just before full darkness we spotted a large fishing boat in the distance, amongst the ice floes. We managed to raise him on the VHF radio and asked him for the latest ice information. The news he gave us was encouraging. Just another 20 miles to the east, the ice shelf will turn south.
The hours of night were by now longer than day and the lonely night time watches were tense as I stared into the dark and fog, running the gauntlet through the bergs. One night around this time was particularly grueling. The wind had sprung up fresh from behind us, building into a moderate sea, and the sky was pitch black. I was alone on watch and the boat was surfing up to 10 knots. It would've been a beautiful sail were it not for a radar screen full of large bergs. I had the radar range set at 6 miles, and at one stage counted 26 targets ahead of us. I attempted to slow the boat by reducing sail but the waves were picking us up and hurling us forward. My eyes strained into the black to try to get a sighting of any of these targets but couldn't see past the main mast. Occassionally I'd spot the faint flouro glow of a berg out to one side as we whisked past it, and I spent a tense few hours practically waiting for the "inevitable" collision. When Rog came on deck to relieve me, he looked at the radar and politely asked if I wouldn't mind staying up with him to provide an extra set of eyes! We set up positions port and starboard, tired eyes playing horrible tricks but several hours and near misses later, the first light brought some relief.
It seemed the trawler was correct as we were now able to maintain an almost southerly course, keeping the ice shelf off to starboard. I spent many daylight hours scanning the ice pack with binoculars searching for bears but they are well hidden in their environment. Often we were followed for a hundred miles by huge pods of pilot whales surfing our wake and happy to stick with us. Their antics were great entertainment and it was nice to finally see wildlife after the barren and seemingly lifeless expanse of the Northwest passage. We also now had constant flying companions, skimming the waves with their wingtips.
At around 66 degrees north, we crossed the arctic circle, approximately opposite Cape Dyer, and turned slightly to the south-west to line up our next anchorage on the northern tip of Labrador.
Over the next few days we enjoyed good winds behind us and made an average 120 miles noon to noon. The dark hours were still stressful and I usually spent mine sitting up on the bow to give me the best chance of spotting an obstacle. The downside of this was the bitter cold and having to occasionally rush back to the helm when the auto-pilot decided to have a rest. We hit plenty of small bergs but none big enough to worry us, but the constant ominous sound of unseen ice grinding in the dark was always unsettling and reminded me of surf breaking on rocks somewhere close by! We had made some good sailing times and were nearly within range of our next fuel stop, way down the coast of Labrador. For now we were headed to the northern tip of Labrador, right next to the entrance to Hudson Bay, infamous for it's deception of early explorers searching for the 'mythical' northwest passage.
This landfall was another 240 miles south west but I found during my watch that our path was blocked by a huge number of massive bergs. I checked our position and figured these bergs were all spewing out of Cumberland Sound, a huge inlet on Baffin Island. As it was getting dark I reluctantly decided to turn east again and try to skirt this gauntlet of icy monoliths, some rising over 1000 ft from the sea. It reduced our limited fuel reserves even further but by now I'd had enough ice! Despite this precaution, by the time I came on deck for my 10 pm watch we were again in the thick of a cluster of invisible radar targets and a very black sky! The wind had picked up and I hand steered through this maze, not seeing the bergs till they were maybe 100 meters ahead. After a few hours we seemed to have come through the worst of the cluster and the adrenaline began to subside, but not the wind. The seas were building and by daybreak, the conditions were miserable with 35 to 40 knots almost on the nose, thick fog and heavy rain. "Philos" was revelling in the big seas but it was cold and exhausting and no sleep for 24 hours.
We were motor-sailing to try to maintain our course but late in the afternoon it was deep groans all round when the engine started surging, signaling blocked fuel filters. I stayed on the helm for Roger's watch as he sweated over the engine in the pitching sea. It was a 2 hour procedure bleeding the fuel system and trying to get the stubborn machinery started again. The barometer had been dropping steadily and the air temperature was hovering just above freezing as darkness fell. We were now 8 days out from Pond Inlet and only 90 miles to our next anchorage on the northern tip of Labrador. On my late watch that night the wind had abated to about 25 knots and shifted enough to almost carry our course. The fog had also lifted and I was treated to the best display of Aurora Borealis yet. It was altogether stunning, with massive curtains of purple and green dancing above my head. The moon was almost full and straight ahead, giving me some comfort that I would be able to see any bergs in plenty of time, so I turned off the auto-pilot and enjoyed the sailing, pushing her further upwind with every gust.
By morning we were only 45 miles from our anchorage but strong currents coming out of Hudson Strait were slowing our progress to about 3 knots, so it was not until late afternoon that we neared the land. I recalled the first explorers who searched for the Northwest Passage and how for literally centuries, this was the starting point, for it took that long and many tragedies to explore the massive inland waterway of Hudson Bay, and confirm that this was not the way through to the Pacific. There are ferocious currents and eddies here at the entrance, and we were being thrown around as we approached the two small islands that marked the channel through to a tiny but safe anchorage. We circled a massive whirlpool, like I'd only ever seen in movies! The scenery was spectacular with massive rock escarpments, icy crevices, waterfalls and……polar bears! We spotted a huge bear standing upright staring at us from up on the hillside maybe 300 m away, and then a second bear lying along the shoreline. It got up and started climbing up the hill to join it's partner. Fantastic!
We motored slowly up the inlet till we reached it's end, a beautiful little cul-de-sac surrounded by snow covered peaks and 2 waterfalls, completely protected. We dropped anchor and were greeted by dozens of curious seals and hundreds of birds. It was a pleasant relief after a long and tiring ocean passage. A quick check around the deck for damage revealed a mystery that still remains unsolved. The spare jerry can of outboard fuel was missing from where it had been lashed to one of the staunchions just forward of mid-ships. This wouldn't have been unusual considering the rough seas we'd had the last few days, however the rope that had secured the can was still in place on the staunchion but melted or burned through at the other end where it had been tied to the can! We could think of no explanation for this. It was as if a hot knife had been used to neatly cut the rope and melt the ends.
After enjoying a beer and chips on the deck we retreated down below and got the heater fired up to thaw ourselves out. We could only run the heater in calm anchorages. Roger reminded us that he had been in this anchorage once before in 2011, and that he had also spotted 2 polar bears, one of which swam out to the boat and had to be frightened off with a few gunshots over it's head! That story didn't bode well for getting a good nights sleep!
We had now completed over 2000 nautical miles since Cambridge Bay, 1100 since Pond Inlet, and we have another 720 to reach our final destination at Lewisporte in Newfoundland. Over dinner that night we worked out a plan for the remainder of the journey. Both time and fuel was getting short so we decided on a quick stop-over at Hebron, a historic Monrovian Monk settlement some 150 miles south, before pushing on to the small town of Makkovik, a further 200 miles, where we could get fuel. It would be a close call by our calculations, as to whether or not the fuel would hold out. It was a welcome relief to be sitting in a nice anchorage with the heater going and we all slept well. In the morning we emptied all but 3 of the reserve 20 lt fuel cans into the tank and prepared the boat for sea once more, tying down everything on deck. Lifting the anchor brought half a tonne of kelp and hairy weed to the surface and a very sharp knife was required to find the buried anchor and set us free!
As we cruised slowly back down the inlet another white bear was spotted disappearing over a ridge. Soon we were back in the midst of the eddies and whirlpools and, well aware of the limited accuracy of the charts of the Labrador coast, we headed offshore, spotting several uncharted rocks on the way. At around 20 miles we turned south in glassy conditions, and as night fell, a full moon rose. My late watch was as good as it gets. The moon was dead ahead, the conditions were calm, and the air was definitely getting warmer, up to 5 degrees now. We crossed over the 60 degree North line during the night. When I rose for my 4 am watch the sky now looked very bleak ahead, brilliant red sunrise and very black sky but the mountains were spectacular in the red glow, with a couple of massive bergs between us and the shore.
The day stayed calm but rainy and by 3 pm we had arrived at the historic settlement of Hebron, dating back to the early 1700's and occupied till 1959. We anchored in the little harbor and launched the dinghy. We could see one large, long gabled building with a bell tower at one end and several smaller buildings, mostly in ruins. It looked deserted but as we pulled up to a makeshift jetty we were greeted by a young Inuit carrying a gun and followed by a pack of enthusiastic huskies, all keen to meet some new folk! It turned out that the young man was the son of the caretakers whom Roger had met in 2011, so when they turned up we were treated to a grand tour of the settlement, including its amazing history of early pilgrims who must have endured intense hardship in this barren forgotten landscape. The building was very impressive in its solid structure and we were allowed to venture up into the bell tower with its commanding views of the little harbour and the barren hills surrounding it. We were still above the tree line. Buddy, one of the Inuit caretakers, was very talkative and gave us some amazing insights into the traditional ways of Inuit hunting etc. He and his family are employed by National Parks for the summer months, to continue the slow restoration of the main building and to welcome the handful of visiting yachts each season. We arrived just before they packed up and left for the winter.
It was actually hard to get away as they obviously enjoyed visitors, but we finally bid our farewells, had one last cuddle with those beautiful dogs, and launched the dinghy. As we cruised back out to sea we watched a black bear combing the foreshore looking for cheap eats. Again we headed offshore to avoid the uncharted hazards and as night fell the wind picked up from the north which gave us a good 7+ knots but afforded no protection in the cockpit so the watches were very cold. It was now September 1st. Before dawn I saw lots of whale spouts and dorsal fins but never close enough to identify them.
By first light we were only 20 miles from Makkovik and it was still quite windy. Roger had been trying to get a weather report but again we had been without any internet connection for several days. Now, just out of Makkovik, the report came through, and it was much worse than we had expected – a deep low with gale force winds was approaching. We had anticipated resting a couple of days in the small village before the 400 + mile final haul to Lewisporte, but now Roger decided to quickly fuel and leave to try to stay ahead of the low. As we approached the town we could see that at last we had crossed the tree line – sort of. There were small fir trees everywhere, the first real vegetation we had seen since the trip began!
The town itself is an Inuit community of 360 serviced by air only with a weekly flight from further south. We pulled up at one of the commercial wharves and had a chat to a trawler skipper who organized the fuel truck for us. He also warned us of the impending weather and told us that all the local fishing fleet were staying in port till it blew over, possibly another week as it was a huge system. This just strengthened Roger's resolve to get going as soon as we had fuel. The truck arrived and the driver Mike was very helpful. He gave us a snack of crumbed cod and smoked arctic char, just delicious, and also warned us of the coming storm. The boat took almost a full load of fuel, real diesel at last, so we must've been down to the last few litres. When that was done we accepted Mike's invitation to a tour of the town in his pick-up. There wasn't a lot to see as there are no roads leading out of the town, but it was interesting none the less.
By 4 pm we had set off again, with a moderate nor-easterly but a dark sky. By midnight we were out to sea far enough to safely turn south again, so we set a bee-line course for the southern tip of Labrador with Lewisporte some 380 miles away. There were still the occasional big icebergs in the distance but becoming fewer. By next morning the wind had almost dropped out completely, but the sky looked ominous. Grey to the water and almost black on the northern horizon behind us. All day the conditions stayed the same, in fact it was now glassy calm – an altogether eerie and uneasy feeling. The barometer was dropping and so was the temperature, now hovering between 4 and 5 degrees. Later that afternoon I sat down with Roger to study the charts and the weather maps. We were 2600 miles from Cambridge Bay and this was our 25th day at sea. It seemed like twice that! We were sneaking down the Labrador coast trying to stay between 2 big lows. The one above us was large, strong and deep, showing over 50 knots in places. The one below us was smaller but still blowing 45 knots. They were both heading in the same direction as us, but with no wind to drive us we would have trouble staying ahead of the big one.
Just on dark the GPS plotter died. We made a big effort to resurrect it but it seemed that the screen had failed, probably due to it's frigid winter in Cam Bay. Couldn't it just have waited a couple more days? There was, however, a slight smile on Roger's face as he told us we would now be plotting on the paper charts for the rest of the trip. He loves the old school ways. That was fine until Roger realized he couldn't find any Newfoundland charts. This was a problem as the coast of NFL is a jagged maze of islands and rocks, and Lewisporte lies many miles inside this maze. Eventually Roger dug out his ancient laptop, managed to kick it into action, and found some electronic charts for that coast. But in the meantime we were still off the Labrador coast with good paper charts.
Towards the end of my midnight watch we had cleared the final Labrador headland and I was able to adjust the course almost due south (178 degrees), to Lewisporte.
The next morning the sea was still glass and the sky still black. There were lots of whales and dolphins around us. We were now at 52 degrees north which put us 173 miles and approx. 30 hours from our destination. Maybe we had cheated the bad weather. Touch wood. In the afternoon I started to put together a huge frittata with as many ingredients as I could find. There was potato, salami, onion, garlic, parsley flakes, bacon, spinach, creamed corn, yellow peppers and lots of eggs. Just as I put it in the oven the wind sprang up from behind us. We made the most of it by putting up full sail and were hitting 8.5 knots at times. By 4 pm the wind was directly behind us and building past 30 knots.
Plotting our position on the chart every half hour we found that there was a shoal bank dead ahead with shallow but unknown depths. By the time I was on watch the shoal was close enough that I needed to make to the west to avoid it but that proved difficult without jibing, not an easy manoeuver in these seas, by myself. There was now driving rain from behind us so I had to close off the companionway to keep the cabin dry. I decided it was safer to make east as best I could and sail over a corner of the shoal. I spent a harrowing 2 hours watching the peaks rise on our very accurate depth sounder, then fall away again, only to rise a few minutes later. By the time we were definitely over it and back in deep water, I was tired, wet and cold.
There were now no more obstacles between us and NFL, except possibly ice! By dark the seas had built considerably but Philos was loving it, surfing down long 4m rollers at 10 knots. We all ate some frittata, realizing this might be our last night at sea, and possibly our roughest. I tried to get some rest before my 10 pm watch but it was impossible. By the time I went on deck the wind was howling and the seas were huge behind us. We still had the schooner sail and a headsail up and felt over-powered, surfing down the front of each wave, struggling to maintain course. I couldn't see anything ahead except white water lit up in the frequent lightning bolts, and the radar was filled with rain clutter. It was too dangerous to go on deck to drop the schooner so I just hung on, straining into the darkness looking for ice and occasionally looking over my shoulder to make sure there were no rogue waves bearing down on us.
By the time Roger came to relieve me at midnight, I was exhausted. The seas were by now around 7m and breaking. I went below and tried to sleep but the motion of the boat made that difficult. I was up again to do it all again at 4 am. Conditions were even more wet, windy and miserable. We were running too far east of our course so I had to work out a way to jibe by myself. I switched on the deck lights and turned the boat starboard until the schooner sail back-winded, held in place by a preventer. I then ran up the deck, eased the preventer to let the boom across, ran across to the other side and re-tied the preventer on that side. Then back to the cockpit and changed course to starboard even further till we were back running down the 55th meridian on course to Lewisporte.
By the end of my watch the tops were blowing off the waves and first light revealed a gnarly, storm tossed sea. We had ticked off a lot of miles during the night and were now only 30 miles from our waypoint off the NFL coast. Roger took over and I went down for a little sleep. When I got up again at 9 am we were only 4 miles from our waypoint. The seas were still huge but from the top of each wave I could see 2 headlands ahead, with an opening between them. We now had to use the charts on Roger's old laptop. They were inexact but gave us a course to steer between the rocky capes. As we surfed through this gap the swell began to diminish and it began to sink in that the journey was almost complete and we had done it. My journey was almost 5000 miles through the Northwest Passage, from near the Alaskan border in the west, through to Greenland waters in the east, then south through Baffin Bay and Davis Strait, to Newfoundland, a total of around 10 weeks sailing time over 2 years. It was ironic that the last 24 hours was the roughest of the whole trip.
We arrived at the small town of Lewisporte, on the Atlantic coast of Newfoundland at 3 pm on September 4th. After tying up at the Yacht Club Marina we all headed for the showers, our first in over a month. After formalities with customs etc, we headed to the local pub where prime rib was on the menu. That meal, washed down with a couple of cold beers, was heaven. The next day was spent washing clothes and tidying the boat in preparation for winterizing. While washing out the cockpit Roger and I discovered, with a mixture of horror and relief, that the 6 mm stainless steering cable had rubbed through almost completely where it had been turning on a pulley. It was holding on by literally a couple of strands and wouldn't have lasted another 10 miles. We both shuddered to think of the inevitable broach and probable roll that would've occurred last night if it had let go in those seas.
Over the next week we lifted Philos out of the water and began to winterize her once again, while being treated to some of the warmest hospitality I have ever experienced. The members of the yacht club, together with a family of friends of Rogers' who had driven up from Halifax to help us, all provided us with great meals every night, wonderful entertainment and sincere friendship. It was a truly superb ending to our challenging adventure and I will always be grateful to all those folks.
Once Philos was settled on a hard stand for the winter, I walked around her, inspecting the beautiful black hull that had kept us alive through that harsh landscape. Aside from several areas where ice had scoured the surface down to silver metal, especially around the bow and prop, she was unscathed and I thanked her for her strength. Within a few days I was home in Australia, and it all became a distant memory, or even like something I had read about which happened to someone else. A year later, Philos still sits in that far-away marina, waiting for her next adventure